In this week's "The Story Behind", we share some works of Martina Sauter. Sauter (b.1974, Germany) investigates the image through photographs and film. By allowing imagery from both mediums to freely intermingle, she aims to create new spaces that are distinctly ambiguous. At times, fleeting traces of human characters can be seen, whilst others are devoid of such elements, taking the form of fragmented and metaphysical still lifes. Often using film stills and images taken from magazines as a source of collective memory.
The fact that we may recognise the images we see adds to the experience. Conditioned by our knowledge of pre-existing narratives and an uneasy sense of Déjà vu, Sauter wants the stories we think we recall when we look at her images to mingle with the ones we project upon on them. "When I choose a film still it's my idea that it should be familiar, and that you should recognise it's taken from a film, but you can't quite place which one, so your mind starts searching for stories".
Sauter achieves this by carefully choosing scenes. Though the protagonists of her images are often iconic figures from Hollywood such as Grace Kelly and James Stewart, it is often hard to tell at first. Her technique is often to include just a part of their body or a face obscured from view, if the character even appears at all. "The scenes I choose are often in between two actions – a person just left the room, or is just about to enter it. In these pregnant moments, the viewer can imagine a possible before or after and project this upon the space".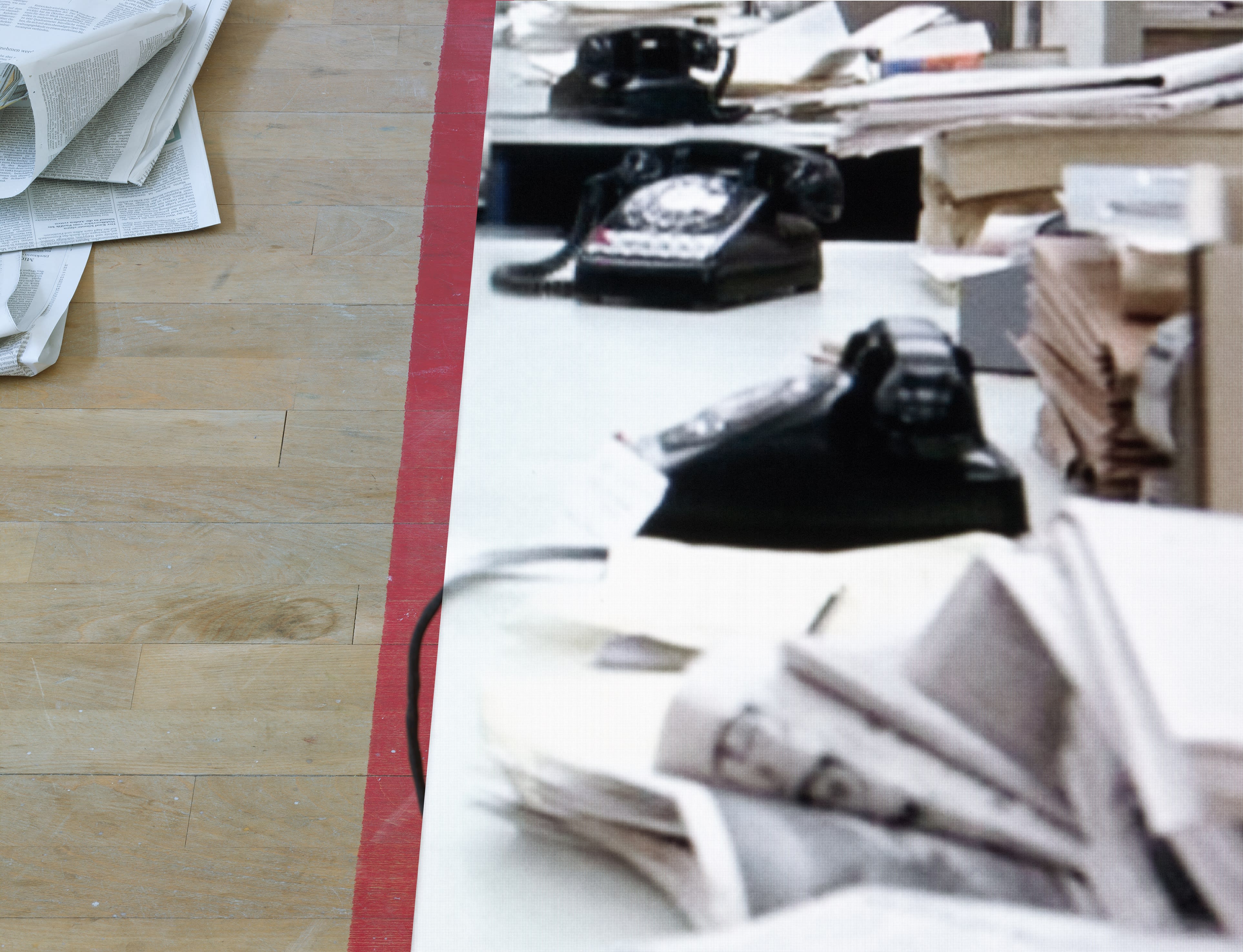 News, 2021, © Martina Sauter / courtesy The Ravestijn Gallery
While some come from recognisable sources such as Hitchcock's films, or frames from David Bowie's music videos, others are taken from more obscure references, such as cult Chinese sci-fi cinema. "I choose films with a special attention to daily life, and recently I've been looking at particularly psychological themes", she explains. Any narrative that plays out within domestic space is potential raw material. Sitting in front of her television screen, Sauter plays a film and watches closely, scanning for images with a certain filmic tension to extract. "I hold the camera up in front of the screen and wait...", she explains, "...freezing the images I want, and shooting pictures of them while static".
It is characteristic of Martina Sauter's work that the viewer discovers a paradox only on second glance. Just as in a film trailer during the course of which the viewer slowly transitions into a fictional world, we emerge to discover that we have gained entrance to two medial spaces at the same time.
March 24, 2021